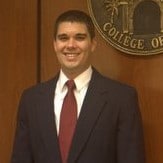 ST. PETERSBURG, FL (January 3, 2017):  John K. Jefferson, CPA, JD, MBA, has been named the Tax Manager at the St. Petersburg based accounting firm of FRSCPA, PLLC.
According to Martha Ford, the firm's Partner of Taxation, "We place great value and trust in our people and their abilities, and John does a great job of managing our tax clients, as well as providing keen insight with his legal and technical background.  This firm is fortunate to have him as a part of our firm's next generation leadership".
John Jefferson is a graduate of the University of South Carolina where he holds degrees in Accounting, Finance and Real Estate, and Stetson University where he obtained his Juris Doctor, as well as his Masters in Business Administration.  He is a member of the Florida Institute of Certified Public Accountants, American Institute of Certified Public Accountants and is a Florida licensed Certified Public Accountant.
About FRSCPA, PLLC
FRSCPA, PLLC. is a full-service professional services firm dedicated to creating value through relationships with their clients by providing the highest quality accounting, assurance, tax, and management consulting services since 1984.  According to the 2016-17 Tampa Bay Business Journal, Book of Lists, FRSCPA, PLLC ranks number 23 serving the community with 6 partners and two offices in the southeast (Tampa Bay, FL and Durham, NC).  For more information, please visit: https://frscpa.com.
For more information, contact:
Melissa Smith
Marketing Coordinator
FRSCPA, PLLC
727-347-1120